'Abu-Ghazaleh for Technologies' Announces the Arrival of its Factory's Production Lines to Jordan
Special to TAG-IT News Agency
AMMAN – Talal Abu-Ghazaleh Global (TAG.Global) announced the arrival of the production lines for the Talal Abu-Ghazaleh for Technologies (TAGTech) electronic and technological industries factory, which is under construction; the first to be designed and produced devices in Jordan and the Arab region.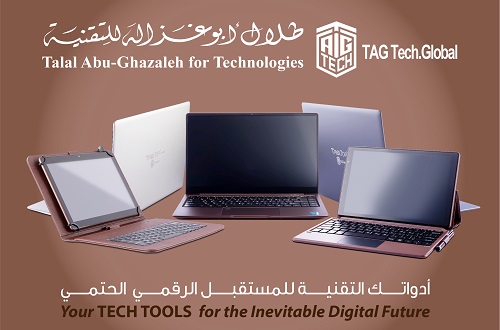 TAG.Global has previously started the establishment of the first operational Arab technological factory at Madaba Industrial Estate to manufacture, produce and design laptops, tablets and smartphones which are currently being manufactured in China.
HE Dr. Talal Abu-Ghazaleh, founder and chairman of TAG.Global, stated that the factory is considered the first of its kind in Jordan and the Arab region, pointing out that TAGTech factory will be an added value to the Jordanian economic activities as its produces various electronic devices characterized by their high-specs and competitive and affordable prices for all.
Furthermore, Dr. Abu-Ghazaleh asserted that choosing Madaba to host TAGTech factory comes in a response to the vision of His Majesty King Abdullah II for developing the region. He further added that after a series of meetings with the concerned authorities including the Ministry of Industry Trade & Supply, the Jordan Industrial Estates Corporation (JIEC) and Jordan Investment Commission, the government officials and representatives offered all required facilities to establish the factory and to achieve the goals for which it was established.
Dr. Abu Ghazaleh also noted that TAGTech factory will create around 150 skilled jobs for Jordanians workers who will be also qualified and trained on this new industry and production lines in the Kingdom, stressing that TAGTech will continue developing this industry to meet the requirements of all segments of the society.
TAGTech continues to expandits production operations by producing so far 15 electronic devices of TAGTech series including (TAGITOP-Multi, TAGITOP-Plus, TAGIUNI, TAGITOP-Pro and TAGITOP II) laptops and (TAG-DC, TAG TAB II, TAG-TAB KIDS) tablets and it has recently started producing a smartphone (TAG-Phone).
For further information about TAGTech devices, please visit the website: tagtech.com