'Abu-Ghazaleh for Technology' Showcases its Smart Devices at the First Virtual Kingdom International Expo
Special to TAG-IT News Agency
AMMAN – Talal Abu-Ghazaleh for Technology (TAGTech), a member of Talal Abu-Ghazaleh Global (TAG.Global), will take part in the first Virtual Kingdom International Exhibition and Conference organized by the Sindyan Entrepreneurship & Development Organization, in partnership with Jordan Investment Commission (JIC), and in cooperation with Jordan Chamber of Commerce and Industry fromJuly 28 till August 2, 2021.
The Expo abides by the highest global technological standards recognized in the virtual conferences and exhibitions industry, with the objective of promoting Jordanian industries, services and products, and facilitating their access to the Arab and international markets.
TAGTech's participation in the Expo signifies the role TAG.Global plays in supporting the first virtual Kingdom International Exhibition and Conference as a Strategic Success Partner. TAG.Global considers its support to such events and activities as part of its social corporate responsibility and national commitment to economic development, and business recovery of companies and factories that have been impacted by the Coronavirus (COVID-19) pandemic. Accordingly, TAG.Global will market its websites and also invite and encourage its clients and partners to participate and visit the Virtual Kingdom Exhibition through its more than100 offices around the world.
During its participation, TAGTech will display all its technological products including laptops, tablets and smartphones; all distinguished by their high specifications at competitive and affordable prices for everyone, as a part of TAGTech's vision in facilitating purchase of state-of-the-art technolog to those who are in search of excellence in the knowledge world.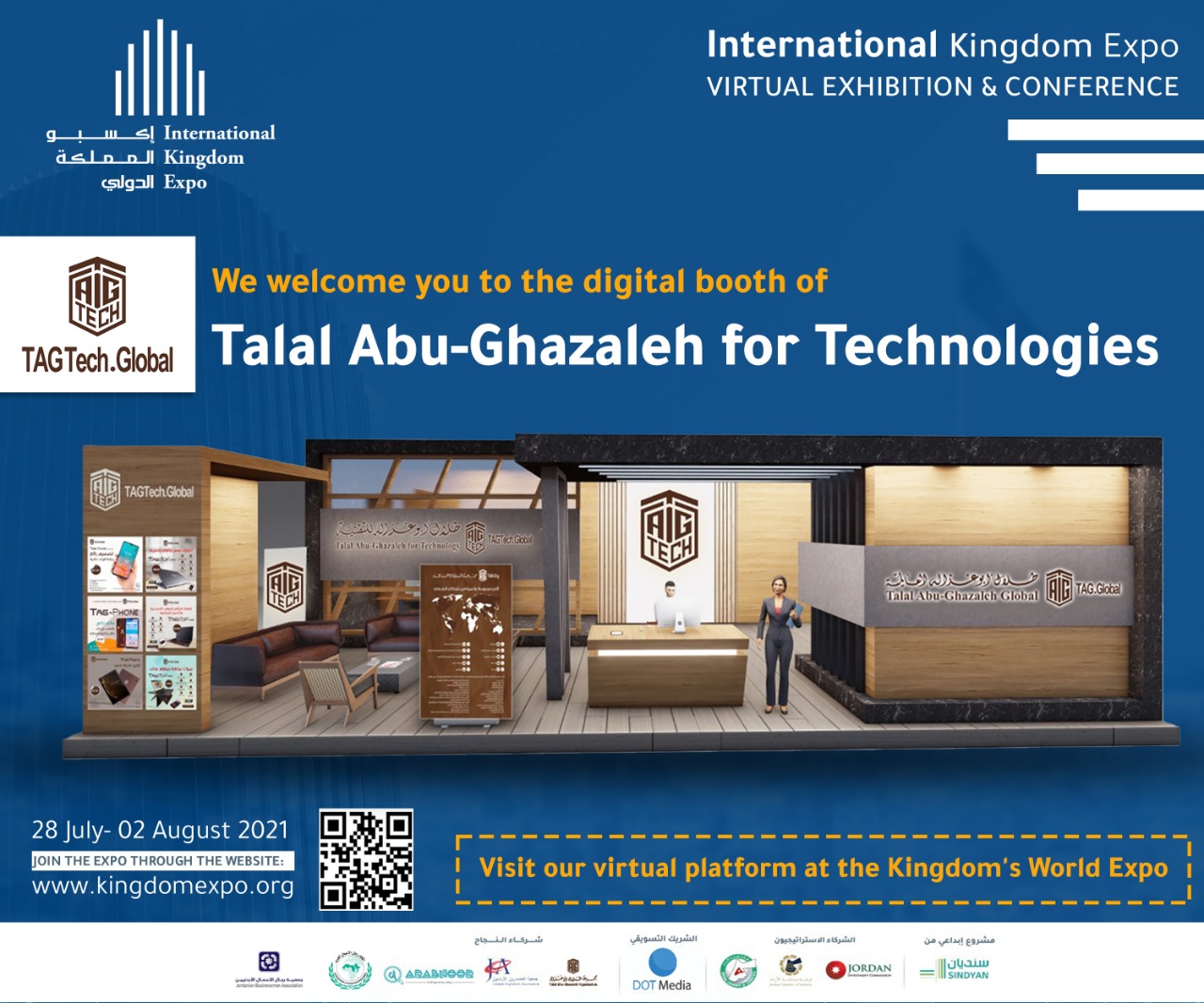 Mr. Fadi Daoud, executive director of Talal Abu-Ghazaleh Knowledge Forum (TAG-KF), and head of the Exhibition's Organizing Committee, pointed out that virtual exhibitions and conferences became major pillars which countries count on in promoting their products and services to reach out to global markets due to restrictions imposed because of the COVID-19 pandemic on the whole world.
It is noteworthy that national companies and institutions can benefit from this great opportunity by registering and participating in this significant event to exhibit their national products and services to reach out to global markets through the best virtual digital platforms.
For that reason, TAGTech invites and encourages everyone to visit the Virtual Kingdom Expo and its virtual booth by registering via the following link: www.kingdomexpo.org.