'Abu-Ghazaleh Global' Receives ISO 27001 Certification for Information Security Management
Special to TAG-IT News Agency
AMMAN – Talal Abu-Ghazaleh Global (TAG.Global) received the ISO 27001 certification; an international standard for information security that sets out the specification for an information security management system (ISMS), for its specialized services in the information technology field.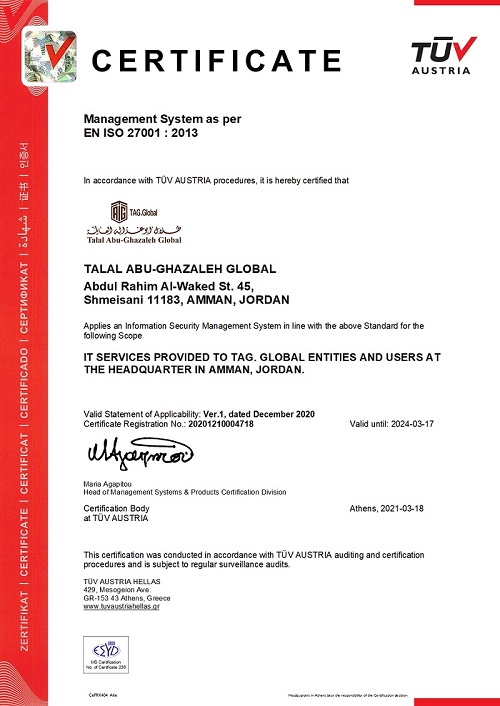 TAG.Global offers a wide-range of information technology services through its 100+ offices around the world including: Infrastructure, Cloud Computing and Software and Systems Development, in addition to Web Development services.
Mr. Berj Vartenian, executive director of Talal Abu-Ghazaleh & Co. Consulting (TAG-Consult), a member of TAG.Global, stated that receiving the certification affirms TAG.Global's commitment to providing high-security technology services in accordance with the international standards, and in conformity with the vision of HE Dr. Talal Abu-Ghazaleh, founder and chairman of TAG.Global.
Furthermore, Vartenian stated that a specialized in-house team at TAG-Consult supervised the design and the implementation of the information security system at TAG.Global, as well as the provision of guidance and assistance for certification purposes. He pointed out that TAG.Global constantly works to keep abreast of various technological advancements in its services and activities especially in light of the digital transformation that the world and businesses are experiencing as a result of Coronavirus (COVID-19) pandemic.
Additionally, Vartenian noted that the importance of this certificate stems from the fact that it has become a significant requirement by TAG.Global's senior clients in various fields, particularly by Abu-Ghazaleh Intellectual Property (AGIP) clients who are keen to receive and maintain high-level security, readiness and information protection of their businesses.
He pointed out that all ISO 27001 certified companies ensure the implementation of information security standards relevant to data confidentiality, integrity and availability in all departments affiliated with information technology companies.
Vartenian affirmed that TAG.Global is committed to applying general data protection instructions such as the General Data Protection Regulation (GDPR); a regulation in EU law on data protection and privacy in the European Union, which is compatible with the requirements of the European clients, and at the same time, correspond to the requirements of similar laws in other countries. According to Vartenian, ISO 27001 certification underscores TAG.Global's keenness in keeping up-to-date with the latest developments, to ensure customer satisfaction and to meet their needs in accordance with the highest global standards.
Talal Abu-Ghazaleh & Co. Consulting (TAG-Consult) has a long record in providing support to government and non-government institutions through a team of experts who always strive to offer effective solutions by integrating their expertise in various fields with best global practices. Its team of consultants in the field of management offer an integrated series of high-quality services to meet the needs of the business community worldwide.