'Abu-Ghazaleh Knowledge Forum' Organizes Panel on 'Jordanian Women in Science and Technology'
Special to TAG-IT News Agency
AMMAN – Talal Abu-Ghazaleh Knowledge Forum (TAG-KF), a member of Talal Abu-Ghazaleh Global (TAG.Global), organized a digital panel broadcast on the Forum's Facebook page entitled 'Jordanian Women in Science and Technology', in conjunction with the International Day of Women and Girls in Science.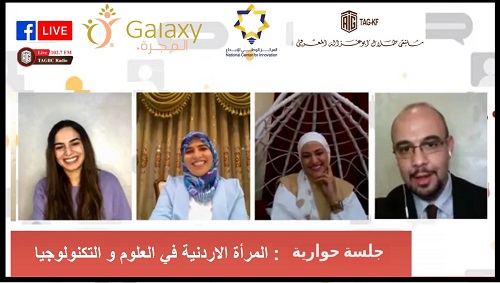 During the session, TAG-KF hosted Ms. Huda Al-Rawabdeh, director of the National Center for Innovation/ the Higher Council for Science and Technology (HCST), Ms. Reema Diab, founder and CEO of Galaxy Organization for Technology and Eng. Ayat Amr, expert in Robotics and Youth Ambassador of Jordan at the United Nations.
Al-Rawabdeh said that women's participation in science and technology is trivial compared to men's due to the challenges facing women in the areas of science, technology and innovation in Jordan, the Arab region and worldwide, adding that expenditure on scientific research and innovation is also negligible according to global statistics and international indicators.
She also pointed out that the National Center for Innovation was established in 2019 as a national umbrella that creates a competitive entrepreneurial environment, noting that the Center would soon launch Jordan's Open Platform for Creativity'- the only platform in the Middle East and South Africa that aims to build distinctive public-private partnerships by linking academic institutions, research centers, entrepreneurs, and business incubators with donors to overcome financial challenges.
For her part, Diab said that entrepreneurs should have basic skills, continue developing their capacities, have a vision, a message and patience. She pointed out that she had founded the Galaxy Organization for Technology that is concerned with education, training and technology for women, youth and children locally and globally; adopting one motto 'Technology Use is a Right for All' to reach everyone in all regions, and enable them to createbetter opportunities for themselves and others through technology.
Diab has received the Best Technology Project Award in San Francisco, the 'Best of Tech' Mira Award for women presented by MIRA Foundation in the USA, and was ranked among the top entrepreneurs in the German of Berlin.
Meanwhile, Eng. Amr, as an expert in robotics, stressed the importance of attracting and supporting talented and gifted youth, to help them explore their undiscovered capabilities, pointing out that she, with the Ministry of Digital Economy and Entrepreneurship, are trying to create a regulatory and supportive environment for entrepreneurial projects.
She also noted that the absence of relevant legislation and instability of laws are the most prominent challenges facing entrepreneurs and they adversely affect startups, calling on the media to shed light on the successes and innovations of Jordanian innovators and entrepreneurs who receive international and global recognition for their important innovations and inventions.
For his part, Mr. Fadi Daoud, executive director of TAG-KF and Talal Abu-Ghazaleh Global (TAG.Global) Education and Youth Consultant, who moderated the session, pointed out that the digital virtual session conducted by the Forum was organized in conjunction with International Women's Day, particularly the International Day of Women and Girls in Science, noting that empowering and enhancing the participation of women in science, technology, engineering, arts and mathematics in their country is essential for achieving Sustainable Development Goals by 2030.
It is worth noting that General Assembly of the United Nations has adopted resolution A/RES/70/212 by which it proclaimed February 11 as the International Day of Women and Girls in Science, with the aim of supporting women and girls to be able to participate fully and equally in science.